Lead organisation: Nature Based Solutions Sdn. Bhd.
Country: Malaysia
Sector: Nature
Unlocking nature-based solutions and protecting over 400,000 hectares of primary rainforest in Peninsular Malaysia through green financing and a focus on harnessing carbon credits in the voluntary carbon market.
The "Hutanomics" (Hutan = Forest in Malay) project provided technical assistance and training to the state government of Terengganu to enhance frameworks that will enable and enhance green financing into nature-based solutions projects in the Kenyir catchment, 200-000 hectares of High Conservation Value Forest.

With UK PACT support, Nature Based Solutions (NBS), formerly Rimba, worked with the State's 'Green Financing Taskforce' to develop a framework that would allow private sector funding to be channelled into forest protection and conservation activities. NBS held workshops with the Taskforce to better understand the opportunities, identify gaps and design pathways that would enable sustainable financing into nature-based solutions projects in the state.

The project also included a networking component that held consultations with the private sector to better understand their expectations and to bridge the gap between the stewards of the land and financing requirements. The project supported the state of Terengganu to set up a pilot site that would secure the protection of an area within the Kenyir rainforest catchment by using green financing solutions. This pilot site would act as part of a wider strategy to enhance Terengganu state's forest protection, climate and green financing ambitions. A key outcome from the capacity building components of Hutanomics was the establishment of 30,000ha of the Kenyir forest catchment to be designated as a green financing pilot site. The project will continue working with the Green Financing Task Force to institutionalise green financing frameworks with the aim of protecting more forested areas in the future.

NBS will also continue to guide the state government as the land-owners on the financing frameworks for green financing. Through its networking component, the NBS has managed to sign a term sheet with a private sector investor to fund the pilot site. The first tranche of funding is expected to be released for the Kenyir State Park pilot site and will be enacted through a payment-for performance scheme which is linked to the ecosystem services outcomes certified under Verra's VCS-CCB standards.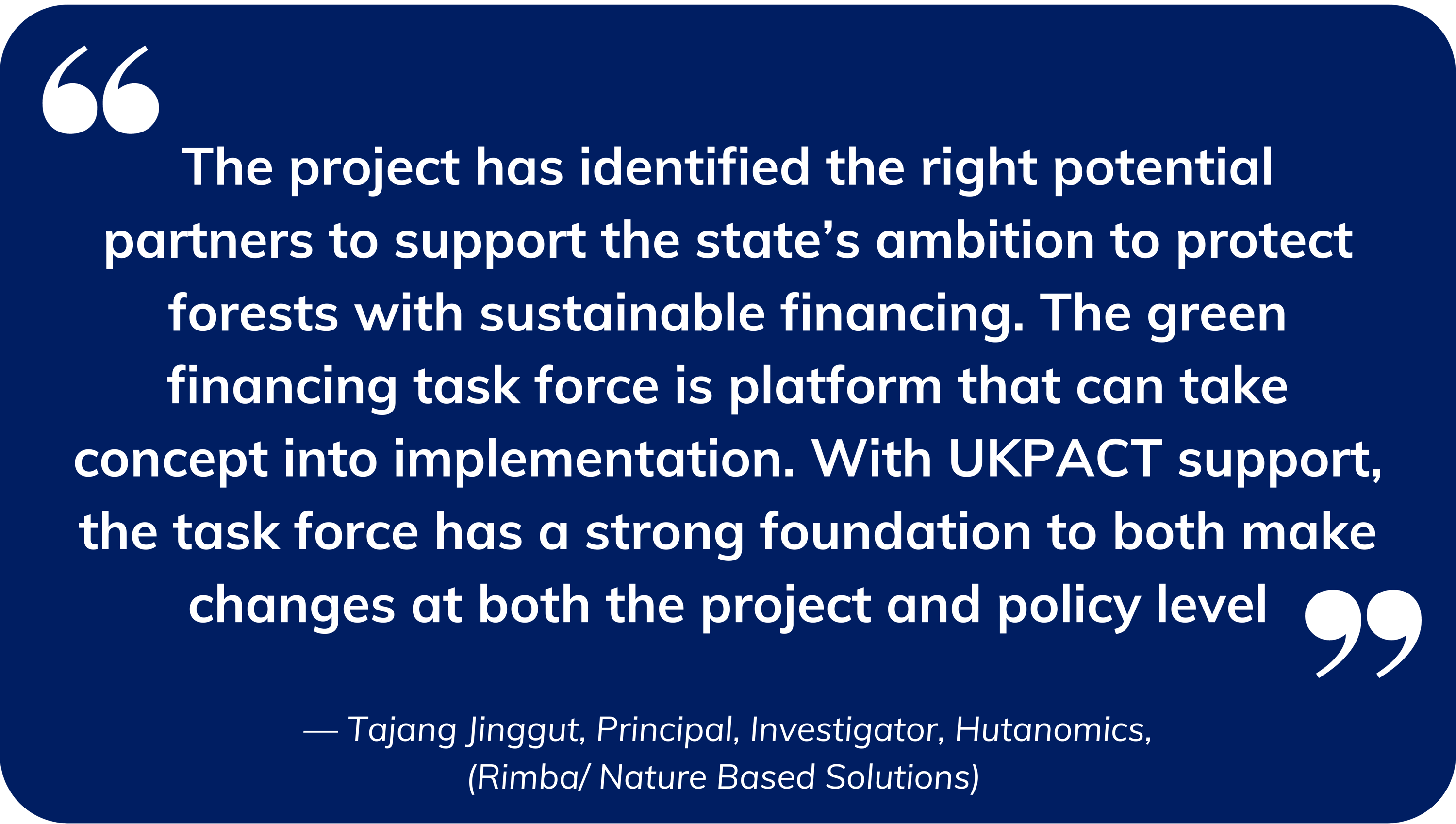 NBS will act as the project's co-operators with the State Park Council, and will eventually hand over responsibilities to the state over five years when they have ensured that capacity within the state agencies have been developed enough to manage the project.

Through its networking and capacity building efforts, the project has also managed to secure interest in two other states in Peninsular Malaysia; namely Pahang and Kedah. Co-operation from the private sector as well as state land-owners such as the royal family have also expressed interest to fund further pilot sites that can be protected through green financing initiatives.


Key project actions:
One of the key outcomes for the Green Financing Taskforce was to designate a pilot site that could protect forest through green financing solutions. Through the establishment of a pilot site in the Kenyir forest catchment, the financing for this site would ensure that funds are channeled to protect this tract of forest for the next 25 years. This has ensured that an approximate 30,000 ha of forest would be protected, resulting in 1,762,528 tCO2e emission reductions.

The establishment of a Trust Account by state governments to enhance interest from both the private and public sector and attract funding for green financing projects aimed at protecting forest and biodiversity.
The recommendations that suggested amendments to the State Forestry Act will pave the way toward recognising the benefits of ecosystem services generated by forests and a clear framework on how rights over benefits can be transferred under payment-for-performance schemes