Improving first and last mile connections to public transport is one of the biggest barriers in achieving mode shift towards sustainable transport. Michael Chadney and Neil Walmsley from Arup, explore the challenges as well as the key strategies for success.
The Challenge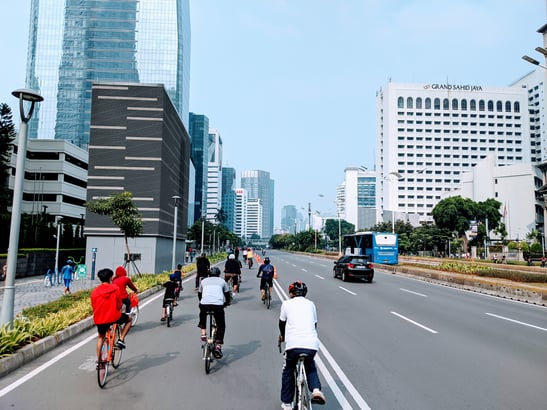 The transport declaration of COP26 emphasised, alongside the shift to zero-emission vehicles, that a sustainable future for transport will require wider system transformation, including the growth of active travel, public transport and shared mobility. If UK PACT partner countries are to reduce emissions and decarbonise transport, they will need to encourage a shift away from car dependency.
One of the biggest barriers to the adoption of non-car alternatives is the perception that other modes are less convenient. This can be addressed by improving infrastructure, services and facilities, making it easier for people to cover the first and last mile via walk, cycle and public transport.
By improving first and last mile connectivity to public transport nodes, our cities can achieve a range of key outcomes including universal access to jobs and services, safe and more inclusive journeys, healthier lifestyles, reduced emissions, transport resilience and economic gains.

Building the right strategies
A comprehensive approach is needed, embracing integrated planning between government agencies, developers, transport providers and communities. Investment strategies should focus on supporting walking, cycling and public transport provision and help towards a vision of direct, sheltered and car-free routes for first and last mile journeys. We propose three key strategies.
1. Providing seamless journeys through transit integration
What are mobility hubs?

Varying in size and scale, they can incorporate a range of key design features such as public transport interchange (mass transit, buses and shuttles, for example), quality waiting areas, real-time information, secure cycle parking, pick-up drop-off areas, electric vehicle (EV) charging and package delivery hubs. Other amenities may include showers, changing facilities and cafes and shops.
Our first and last mile journeys must be seamlessly integrated with public transport to provide travellers with a convenient 'door to door' experience. This is critical to supporting a shift away from private car use and designing for a low-carbon society. One tangible way cities are tackling this is through transit or 'mobility hubs'. These offer strategically located integration points that can allow for multimodal travel, amenities and technologies to support last-mile connectivity and vibrant places.
The UK is one of the leaders in this space. Arup and Go-Ahead recently showcased a vision for how Future mobility hubs can be developed for different contexts across the UK. Through illustrations, the key design principles are outlined which explore scalability, adaptability and potential uses.
2. Embracing innovation to help reach zero carbon
First and last mile connectivity can also leverage technology innovations that will help our cities meet a zero carbon future. A range of new and improved modes can help people access their public transport stop and recent trends towards electric-mobility, including e-bikes and e-scooters, could help encourage sustainable modes and a shift from private car use. UK PACT and partners are already embracing e-mobility solutions as part of a holistic approach to sustainable transport across Asia.
3. Delivering mobility equity for all
Our transport systems should be designed to be equitable, affordable, and responsive to the needs of all users.
An integrated transport system, where first and last mile connectivity supports public transport journeys, is crucial in providing universal access to economic and social opportunities and therefore help to address gender quality and social inclusion (GESI). Good planning of first and last mile connections can support this by making journeys accessible, safer and more comfortable for everyone. For more ideas and information, read Cities Alive: Towards a walking world by Arup.
Act now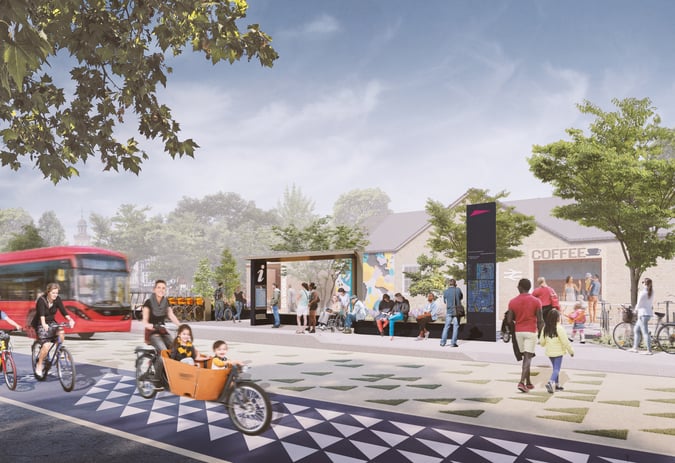 Many UK PACT partner countries are in the process of delivering new mass public transport systems such as metro, light rail or bus rapid transit. The success of such systems depends upon ease of access for customers. It is critical that the integrated planning and design of first and last mile connections is not overlooked.
To this end, UK PACT and its partners are undertaking a range of projects to support first and last mile connectivity and sustainable transport planning. A recent UK PACT global webinar was held on Inclusive Cycling in Cities and Towns. UK PACT is also undertaking a project to plan green mobility corridors in Colombia, which includes formulating concept studies and building local capacity to promote the integration of green infrastructure, such as parks and gardens, into active mobility networks in the Cali-region. A key outcome of the project is enhancing the quality of life of Cali residents whilst
supporting zero-emission transport and improving
access to public transport.


How is UK PACT supporting the acceleration of the sustainable mobility transition worldwide with lessons from UK PACT projects?
---
About the authors:

Neil Walmsley is a Director for Advisory and Planning in Arup in the UK. He has over 20 years of experience and works at the nexus of city planning issues including integration of property, transport, infrastructure and public space with consideration for economic, social and environment sustainability and city resilience.


Michael Chadney is a transport strategy and future mobility specialist in Arup Singapore and working across Southeast Asia. Previously based in the UK and Japan – he has a diverse portfolio of international projects supporting first/mile connectivity.
The views expressed in this blog are the authors' own personal views, not an official position of UK PACT.