We are pleased to announce the launch of the first Malaysia-UK PACT Call for Proposals today. Through this call UK PACT will allocate funding to transformational projects that help tackle climate change. The submission deadline is 9 November 2020.
Malaysia-UK PACT welcomes expressions of interest to develop innovative projects in three sectors: green finance, climate action enabling environment and energy. We will be looking for evidence of how project proposals can contribute to both emissions reductions and economic recovery objectives in Malaysia.
Successful projects will be awarded grants within the range of £100,000 up to a maximum of £375,000. With an estimated start date of April 2021, all projects will deliver capacity-building support in the priority sectors.
Welcoming the launch of Malaysia-UK PACT, British High Commissioner to Malaysia Charles Hay said:
"As host of the United Nations Climate Change Conference COP26 in Glasgow next year, we want to strengthen our collaboration with Malaysia on climate action. This is part of the UK's broader ambition to build momentum across the world to tackle the global challenges posed by climate change".
About UK PACT
UK PACT (Partnering for Accelerated Climate Transitions) is a £60m flagship programme under the UK's International Climate Finance (ICF) portfolio. It is part of the UK's £5.8bn commitment to International Climate Finance by 2021 to tackle climate change. Through its grants, UK PACT aims to improve the capacity and capability of key public, private and civil society institutions to reduce emissions and foster inclusive economic growth in partner countries. The Country Programmes are one of the three components through which UK PACT is delivered.
Since their inception in 2018, the UK PACT Country Programmes have already supported 34 clean growth projects across China, Colombia and Mexico. The programme was extended this year to Malaysia and South Africa.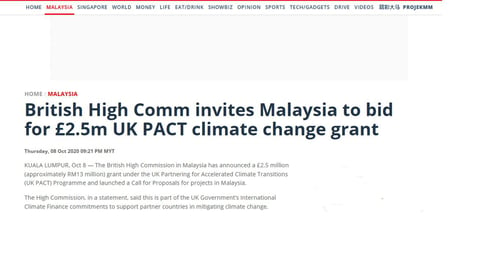 The British High Commission Kuala Lumpur's announcement in the media. Read more...