We are pleased to announce the launch of our Call for Proposals for projects in Mexico for UK PACT's Country Programmes. From today, organisations can submit an Expression of Interest for funding in any of the priority sectors identified. The submission deadline is 13 August.
UK PACT will award successful projects with grants within the range of approximately £100,000 up to a maximum of £500,000. With an estimated start date of January 2021, all projects will deliver capacity-building in priority sectors to support partner countries to pursue greater climate ambition.
Mexico-UK PACT
In Mexico, UK PACT welcomes the submission of Expressions of Interest for projects in green finance, energy, sustainable mobility, forests and land use and climate policy support.
These five sectors offer the greatest potential for UK PACT to achieve inclusive economic growth in Mexico through emissions reductions. They are also areas where UK PACT is best-placed to provide technical assistance and capacity-building support.
UK PACT was launched in Mexico in 2018, funding 13 projects in climate policy, energy, sustainable mobility, waste and green finance. This second phase of Mexico-UK PACT will build on the successes of this previous work.
Corin Robertson, British Ambassador to Mexico, said:
"Our partnership for sustainable and inclusive growth and our joint declaration 'From Cancun to Glasgow' are the most recent milestones in our longstanding climate co-operation with Mexico. As host of COP26 in Glasgow next year, we see Mexico as a key partner and want to work with them to build momentum and raise ambition globally to tackle climate change. This new call for proposals for our UK PACT programme is an exciting opportunity to contribute to that collaboration. I look forward to supporting a set of projects, based on Mexico's priorities, that can catalyse a green, resilient and inclusive recovery from Covid-19".
The UK PACT programme
UK PACT (Partnering for Accelerated Climate Transitions) is a £60m flagship programme under the UK's International Climate Finance (ICF) portfolio. It is part of the UK's £5.8bn commitment to International Climate Finance by 2021 to tackle climate change. Through its grants, UK PACT aims to improve the capacity and capability of key public, private and civil society institutions to reduce emissions and foster inclusive economic growth in partner countries.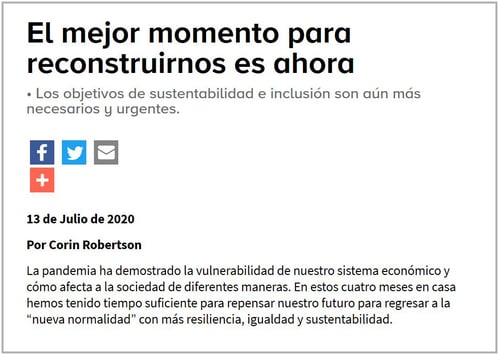 Ambassador to Mexico comments on how the best time to recover is now and opportunities with UK PACT - Read more >